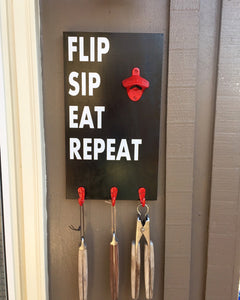 Flip sip eat repeat! Patio sign!! All of you grill masters need one of these BBQ utensil holder signs for your deck, beach house or lake house then you'll be able to do the perfect grilling!
These barbecue grill signs make the perfect Father's Day gift for your dad or hubby or for any man in your life! 15x9.5"
Our custom grill signs come with a bottle opener attached so you can conveniently crack open your beer!
Colors/quotes can be customized
If you want your hooks a different color please add to note to seller at end. We have done red and teal hooks and bottle opener so far.