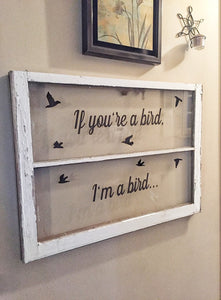 This beautiful rustic window is the perfect way to display your wedding pictures. Imagine this beauty sitting on an easel as you welcome your wedding guests and once your wedding is over you can hang this in your home as a beautiful reminder of your magical wedding day! These wood windows also are great for an anniversary gift or a Mother's Day gift for your wife or mom! 
This window frame can have any quotes or words on it. 
These can be made on two pane windows as pictured or single pane windows. The one pictured measures approx 32 x 23. Window sizes can vary. Quote can also be changed. Frame can be painted any color you like. 
Thank you!
country wedding signs - Valentine's day gift for her - rustic wedding window - vintage wood window - picture window - wood window frames - Valentine's Day gift - unique Valentine's Day gift for her - Valentine's Day Signs - Valentine's Day gift for bestie