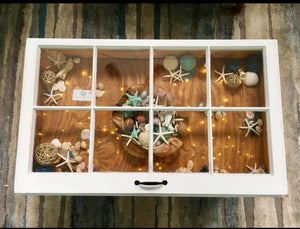 These beautiful 8 pane coffee tables are sure to be a hit in your home. They are so great for displaying items, seashells, decor and memorabilia. This makes the perfect beach house decor! 
We can also make these storage coffee tables with 6 pane windows. The possibilities are endless! These rustic coffee tables are awesome! 
They are approx 39x27x17 tall and 5" deep inside. 
We also make these window tables in end tables and taller accent tables 
check out my other items for ideas! 
We can customize them to your liking. shadow box coffee table, 8 pane window, old window table, rustic table, rustic coffee table, shadow box end table, shadow box accent table, shadow box window, shadow boxes, coffee table with beautiful legs, shabby window, shabby window table, distressed window table, old wood windows, old wood window table, display table, display cabinet, display coffee table, rustic furniture, shabby furniture, rustic wood cocktail table, window furniture, wood window furniture.
Thank you!
#SandJBargainVault #SandJBargainVaultonEtsy #handmadeseller #handmade #handmadewithlove #reclaimedwood #shabby #woodsigns #woodwindows #weddings #DIYwedding #weddingideas2017 #weddingplanner #rustic #etsylove #etsyUSA #etsyseller #etsyshop #weebly #instahome # homedecor #mybeautifulmess #creativityfound #interiorlovers #savvybusinessowner # entrepreneurlifestyle #shopsmall #supportsmallbusiness #creativepreneur # makersgunnamake #inspiringquotes #quotestoliveby #thatsdarling #wedingdecor #interiordesign #coffeelover #winelover #animallover #doglove #catlove #valentinesday #giftforher #giftforhim #happyvalentinesday