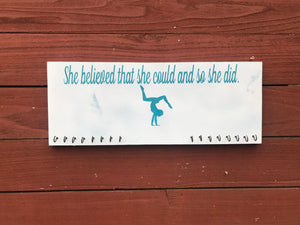 You've earned those medals & now is your chance to display them with one of our beautiful wood gymnast medal holder signs! These medal display holder signs can be made in any color for any sport and with any quote! 
We've made these medal display signs for runners, soccer players, gymnasts, cheerleaders etc... Show everyone how proud you are with one of our signs!
Sign is 16 x 9.5 or 24 x 9.5
This one says shoot for the moon even if you miss you'll land among the stars 
Other popular quotes we've used on these signs are:
You can't score a goal If you don't take a shot - soccer players 
Sole mates in it for the long run - perfect for runners 
What if I fall oh but my darling what if you fly - perfect for girls in any sports 
His and hers medal hanger signs - runners 
Etc.... Any quote you like we can do.
This is a very popular motivational quote for girls 
If you would like to check out our other items please return to our shop at 
SandJBargainVault.com
Cheerleader medal holder - gymnastics medal holder - medal display - gymnastics medals - shoot for the moon even if you miss you will land among the stars - motvational signs - inspirational signs - sports medal display signs - sport display case - nursery wall art - nursery decor - girls room signs - girls room decor
#SandJBargainVault #SandJBargainVaultonEtsy #handmadeseller #handmade #handmadewithlove #reclaimedwood #shabby #woodsigns #woodwindows #weddings #DIYwedding #weddingideas2017 #weddingplanner #rustic #etsylove #etsyUSA #etsyseller #etsyshop #weebly #instahome # homedecor #mybeautifulmess #creativityfound #interiorlovers #savvybusinessowner # entrepreneurlifestyle #shopsmall #supportsmallbusiness #creativepreneur # makersgunnamake #inspiringquotes #quotestoliveby #thatsdarling #wedingdecor #interiordesign #coffeelover #winelover #animallover #doglove #catlove #valentinesday #giftforher #giftforhim #happyvalentinesday