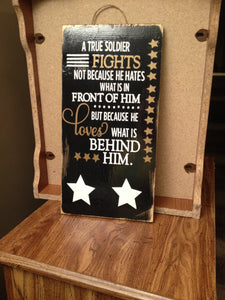 Show your military hero just how much you care by gifting them this amazing soldier sign. This sign is 16 x 9.5" and black with white and gold lettering. The sign is made of wood, paint and vinyl. The sign says " A true soldier fights not because he hates what is in front of him but because he loves what is behind him." Such a beautiful true statement. Honor your military hero with this lovely sign!
This sign can be customized also to fit all types of heroes. Please just leave details in checkout notes if you would like me to alter the wording on this hero sign in any way.
Thank you for stopping by Knot In Your House.  We are so happy you stopped by to see our amazing handmade work.  All items are made right here in the USA.  Our products make the perfect home decor and gifts!  Please feel free to reach out for a custom order.  We can make your vision a reality.  
Need help? Our online chat reps are ready and waiting!