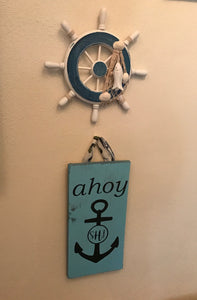 Instead of a welcome mat go with an "Ahoy!" sign  dimensions are 12''x6''


Head over to our other sites! -- sandjbargainvault.com 

Thank you for stopping by Knot In Your House.  We are so happy you stopped by to see our amazing handmade work.  All items are made right here in the USA.  Our products make the perfect home decor and gifts!  Please feel free to reach out for a custom order.  We can make your vision a reality.  
Need help? Our online chat reps are ready and waiting!