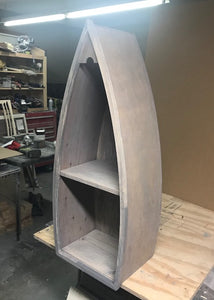 Cute, wood boat shelf that'll add a little more life to any home. If you love being around the water, this is for you.

​Stain colors available:
Gray
Dark walnut
Mahogany
Oak
Unfinished
or any paint color you like 

​36' Tall
15'' Wide
9'' Deep


For our drink ware and clothing line please visit our other website www.SandJBargainVault.com

Thank you for supporting Handmade!  
We also offer a 30 inch boat