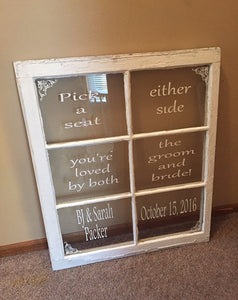 These rustic wedding windows can be customized to your liking and in any color frame,  font can be done in black or white, if you have a special color request please just message me.  These beautiful windows can be done on 6 panes, singles no panes or two panes, 
I also have a few 4 pane windows available 
These make the perfect Wedding picture frame 
If you would like a wood sign instead of a window just message me. 

to check out more of our great stuff visit
​www.sandjbargainvault.com
Wedding window, pick a seat not a side sign, pick a seat not a side window, personalized wedding window, wedding display, pick a seat either side sign,ceremony sign, wedding ceremony sign, wedding aisle sign, wedding bride sign, wedding groom sign, wedding decor, wedding gift, pick a seat either side you're loved by both groom and bride, wedding display sign, wood windows, shabby windows, wood window decor, old wood windows, reclaimed wood windows, picture display, picture display window, wedding picture display, wedding picture displays.